Southerndoodlin - Testimonials
Here's what a few of our customers have had to say about us.
Have a testimonial of your own to share?
Send a Testimonial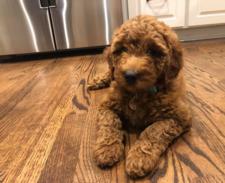 Michelle C
Summer 2019 - Austin, Texas
We are so happy with our experience! Maya is an amazing addition to our family!! We love her so much! I highly recommend!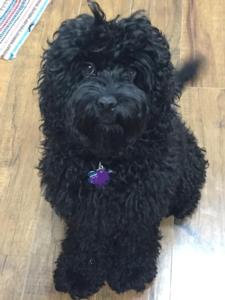 Jamie K
Summer 2019 - Comal County, Texas
I can honestly say getting my dog from Southern Doodlin is the best decision I've ever made. My sweet Bonnie is an absolute joy and a testament to how well the dogs have been bred. Libby is an expert when it comes to her dogs, and ensures that they are happy and healthy. I highly recommend her dogs!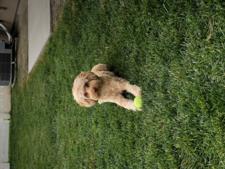 Underwoods
Summer 2019 - Converse, TX
Barkley is the sweetest and cutest dog ever. We love him! He was originally called LJ after his grandma.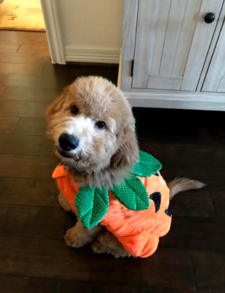 The Scholl Family - Carmel
Summer 2019 - Boerne, TX
Carmel is a goldendoodle. He was born on June 17th of 2019 from Ginger and Ace. We brought him home on August 10th two months later. When we he came home he was almost fully potty-trained, and he was starting to sit on command. He is so easy to train and he is such a loving dog! Carmel is almost 1 year old now, and he is 40 pounds! He thinks he is a lap dog! Carmel is great with kids and he would play fetch all day. He is so gentle and cuddly. Carmel loves to snuggle! He also loves to go on walks, and he encourages us to exercise more. He is very friendly to other dogs. Carmel has been such a great addition to our family!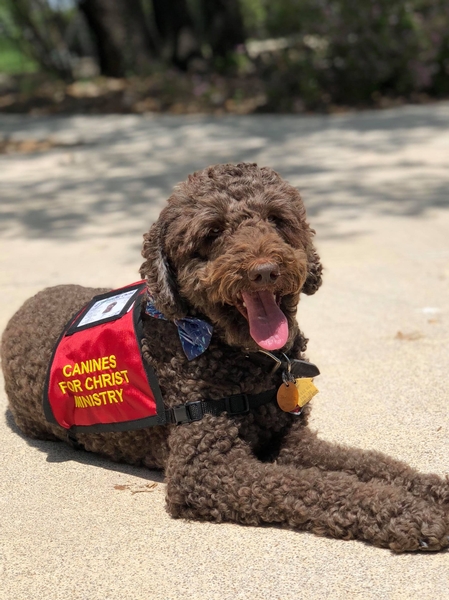 Canines for Christ
San Antonio Christian Therapy Dogs
Hello! I wanted to tell you how blessed we are to have had Zoey in our family for the last six years! Her parents are Rebel and Cocoakiss, born 11/21/13. She has always been a DREAM dog! Super sweet, so loving to everyone, easy to train, and healthy as can be. And she is amazing with kids! Zoey and I are a certified therapy dog team with Alliance of Therapy Dogs and Canines for Christ, both international organizations. I attached two pictures. We visit hospitals, schools, churches, and many other community events. Thank you so much for this wonderful dog! I often get questions about her and refer them to your facebook page. Are you still breeding Rebel? I know my friends would love a relative of Zoey ?? Thank you again!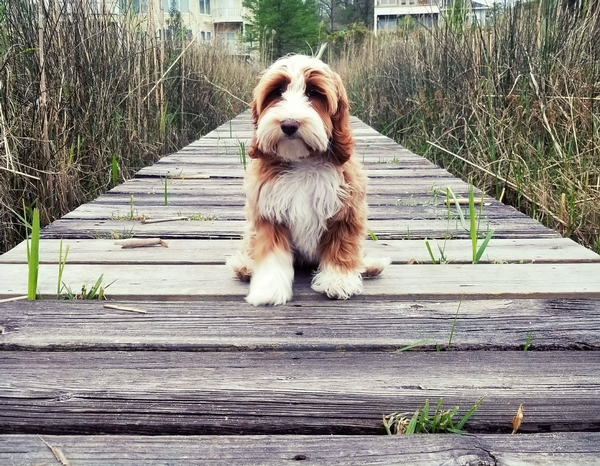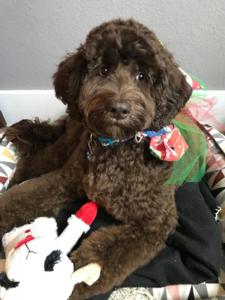 Penny-Karen Burgard and Michael Boucher
Nov. 2017 - San Antonio, TX.
We wanted to give you all an update on our fur-baby Penny. We got Penny in November of last year, the week before Thanksgiving actually. Our labradoodle was born on Sept. 2, 2017 so she is now almost 16 months old. Penny has brought joy to our lives every moment we have had her. She has a wonderful temperament. She is calm and pleasant and has a delightfully cheery disposition. She loves hugs and all the family members in her "pack." Penny is incredibly well behaved and intelligent. We have gone through the first two levels of obedience training in order to get her the Canine Good Citizen's certificate. She enjoys meeting new people and other animals. But, most of all, she loves playing ball outside and has mastered the "catching it in the air" version of ball playing. In addition, we wanted to take a moment and thank Southern Doodlin for the amazing dog buying experience we had. The way that Southern Doodlin cares for each litter and makes sure the dogs are healthy, have their first two rounds of shots, are almost completely house trained, and are acclimated to meeting humans is exemplary. Their facility was clean and well-cared for. They also were so kind and so gentle with the pups. They took such great care of them. And we really love that they keep all the breeding dogs with families in the area who care for them making sure that the mom and dad of each litter are home/family dogs. We cannot say enough good things about Southern Doodlin breeders. In fact, we literally have recommended them to about ½ a dozen people already. And we are counting the days until we can set up getting Penny's little sister soon. We're hoping that will be in another year or two. But, whenever it is, we will for sure use Southern Doodlin. They are a quality breeder that truly understands dog care and making the purchasing of your new "furry addition" to your family so easy and effortless. What a wonderful experience! Thank you, Southern Doodlin! We are incredibly grateful for Penny and all she adds to our lives. We offer a very sincere thank you and "Woof! Woof!" Love, Karen, Michael, Penny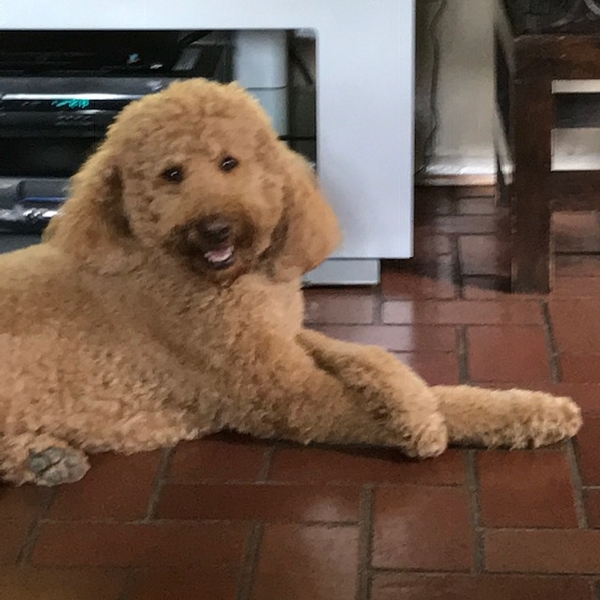 peter
Elli
We were looking in 2012 for a Labradoodle on the internet and run into a web-side near San Antonio in September of 2012 and the lady and owner (Olivia) of the Southerndoodlin told me over the phone that she presently had two litters of labradoodle. But cautioned me that one litter was entirely spoken for and the other litter were going fast and only females were left. It was mid-September and my wife and I decided to make a 500 miles round trip on a weekend to see what was left. It turned out there were three females left out of a litter I believe of nine or ten. The puppies were three weeks old and of course too early to be taken away from their mother. We were very impressed that both litters were in Olivia's living room so we were immediately assured that this was not a puppy mill type of operation. They were well taken care of and it seems all of them had already a name. After she told and showed us medical certificates of their parents we were ready of thinking purchasing one of these puppies. Knowing that she insisted to keep the puppies for at least 8 weeks we went back home to think over the purchase and which one to get of the three left. A few weeks later we went back and we decided which one to get. Olivia told us if we decided on a name she would use the name to train her. In the meantime we had driven 1,000 miles and then drove another 500 miles to pick up our puppy named Elli so the total procedure amounted to 1500 miles until she was in our home. Now our puppy born August 29, 2012 is 6 years and about 3 months old. I am so glad having chosen Olivia's kennel. Elli cried for about 45 minutes the first night and she was house broken. Olivia gave us some very good tips how to take care of her and the best tip was keeping her at night in a kennel. Frankly if we would not be so old I would love to take on another. We found out Elli's father named Roux lives in Holland and she turned out to be as sweet as Roux who stayed in my lap during all our visits. Thanks Olivia for being such a thoughtful and consciences breeder.
Kindest Regards
Peter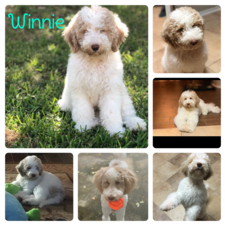 Rodriguez Family
Summer 2018 - Helotes, Texas
We brought Winnie home this past summer and we can't say enough about her. Thank you Olivia for raising such playful, sweet, cuddly and smart babies! We are currently in classes with Winnie and plan on training her to become a therapy dog. When we take her to the farmers market she is always so loveable to everyone so we know she will be a great therapy dog! And my girls, my husband and I have been in love since the day we met her, thank you for our precious puppy Ms. Olivia!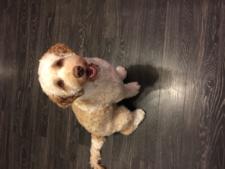 Gabby
Fall 2017 - Houston, Texas
Just wanted to give you an update on Pepper! She is doing great and turned a year on September 5!! Time flies and she has been amazing! We are very happy we went with Southern Doodlin! Thank you for everything!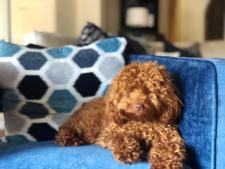 The Foddrill's
Winter 2017 - Colleyville, TX
It is hard to believe our Bear is about to be 1 years old on November 1st! He has brought so much joy and laughter into our lives and is a very well behaved puppy. Although he is a tiny little guy(9lbs), he has the biggest heart and we couldn't imagine not having him in our family. Thank you Olivia and everyone at Southern Doodlin for raising such a wonderful gift! Southern Doodlin is the only place I would recommend choosing your forever friend!!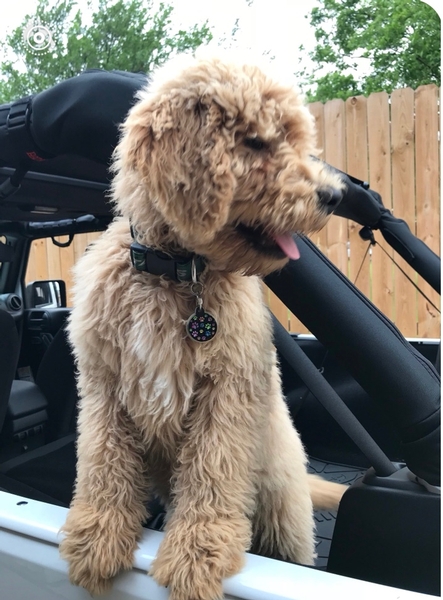 R Pitts
Pitts Puppy
He is loved. I do put the word out Olivia in hopes others will come your way. It is a pleasure to know you and have and love one of your puppies.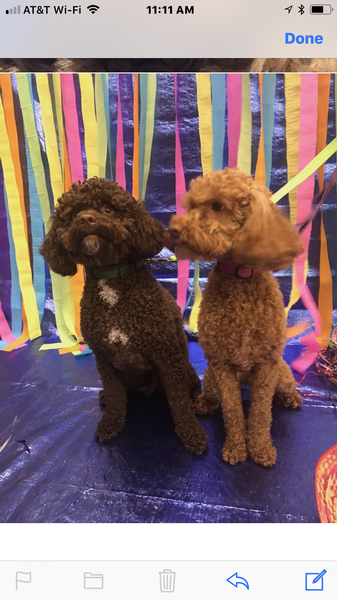 Mike & Brian 2 Southerndoodlin doodles
Mike & Brian
They are loved and cherished every day and bring us so much joy
Tess is red Girl and boss of Chocolate Boy Tobias.
They are loved !!!
Mike and Brian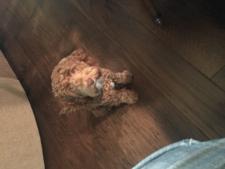 Monty Montemayor 2 southerndoodlin puppies
Fall 2015 and Winter 2017 - Dallas, Texas
Wanted to give you an update on Beau and also our newest addition to the family, Cooper. Both are crazy guys! Two totally different personalities but each compliments the other. Beau is laid back which is to be expected from an older dog but Cooper is a crazy guy! Cooper's tail is always wagging; he's always happy. One thing in common is they have endless love for the family or for that matter anyone that visits us. They are friendly, sweet, and very smart! Both are truly pleasers...all they want is to make us happy and the do that every day. We keep asking what did we do without them. Thank you for providing yet another joy to our family.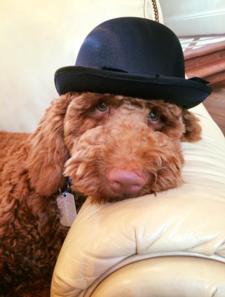 Angie Liollio - Therapy dog
Spring 2016 - Houston, Tx.
My husband surprised me with Gus on mother's day 2016 and boy am I ever hapoy he did!! He has brought so much joy to not only myself and my family, but to so many others. Gus is an official member of Faithful Paws Therapy group. He brings so much joy and comfort to those who need itt. Whether it be a hospital, nursing home, elementary school, university, library, etc. He has the perfect disposition to be a therapy dog. And those eyes!! When you look into his eyes, it's like he is looking right back at you and into your soul. He's such a loving, intuitive animal. We could not have asked for a better fur baby!
A . K. Herzberg
Fall 2011? - The Woodlands, TX
Remember "Boss Hogg". Jethro now, older and wiser? Wonderful dog that we got from you years ago. Still see his picture with Ziva, his sister, in your testimonials. Both dogs doing well. Jethro is still as laidback as then, weighs about 60 lbs. friendly with everyone including very young kids. A good companion, travels well, understands too much English and still try's to learn new tricks. Just groomed, but his longer hair is very much like a poodle. Thanks again for a great pet. Al & Betty H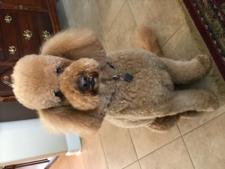 A . K. Herzberg
Fall 2011? - The Woodlands, TX
Remember "Boss Hogg". Jethro now, older and wiser? Wonderful dog that we got from you years ago. Still see his picture with Ziva, his sister, in your testimonials. Both dogs doing well. Jethro is still as laidback as then, weighs about 60 lbs. friendly with everyone including very young kids. A good companion, travels well, understands too much English and still try's to learn new tricks. Just groomed, but his longer hair is very much like a poodle. Thanks again for a great pet. Al & Betty H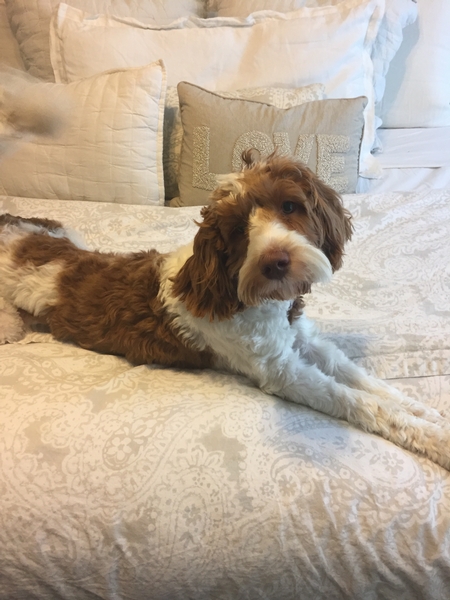 Kendra
Australian Labradoodle Charlotte
We truly adore her!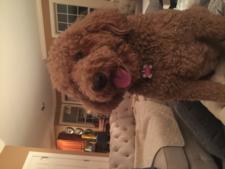 Tana & Don Krstich 2 Southerndoodlin doodles
Lexy and Abby
We absolutely love and adore our Lexie! She loves hugs and thinks she is a lap dog! She loves hugs and steals all of Abby's toys! Abby is our second baby and she is loving, loyal and sweet and sensitive! Our girls were so easy to train, and are great with people, children, and other dogs!!! I highly recommend Libby as her dogs are loved at birth and their gentle sweet nature is never ending! These babies at Southern Doodlin are Number 1 in quality and Libby is always a phone call away!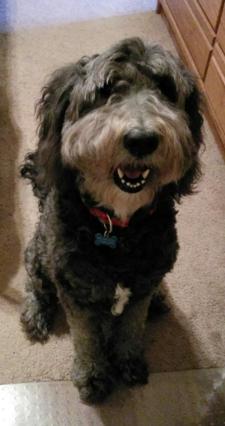 Vikki DeVoy - Therapy dog
Fall 2008 - Spring, Tx
Mojo will be 9 years old in September. He has been a joy to me and everyone he has met. I was looking for a gentle, loving dog that could come with me to work at the long term care facility. The residents absolutely adore and love him. I could not have asked for a better companion. He has helped so many people in his 9 years and hopefully has many more to go. He is extremely intelligent, easy to train and teach and is very intuitive. He is still very much a cuddle bug and loves attention, his treats and ball playing. He enjoys the beach and playing in the mud holes at the dog park. He gets along great with kids and other animals. He has hands down been the best companion that I have had the privilege knowing and caring for.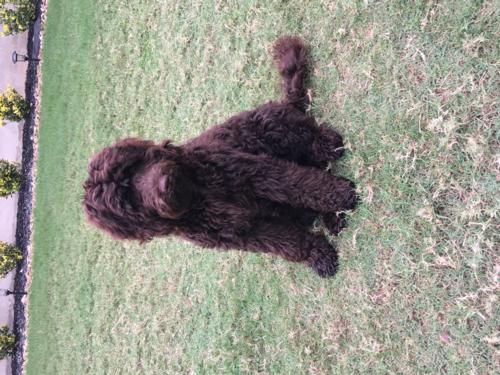 Sayang
Jennifer - San Antonio
Sayang continues to have a great impact on our family and she is so much fun to have around. She's been teething and apparently is fond of either leaving them in the water bowl or on the floor. I've already come across 6. Her personality is fantastic and we continue to be head over heels for her! She is pure delight!
Jennifer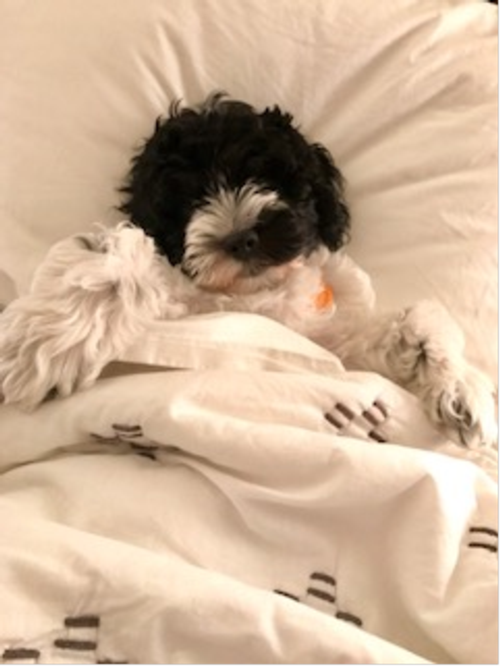 Lauren & Enrique - Austin
Sir Nigel
Just wanted to send you a quick note about our little Nigel. He is doing SO well-he has really picked up on his "potty bells" and lets us know when he needs to go outside to go to the bathroom. He is also developing the funniest little personality and is really keeping us entertained. Heis so sweet and loves to cuddle. I jokingly call him "glue dog" because he never wants to leave my side. He is also loving to fetch - not so much of a fan of tennis balls (yet) but he absolutely loves water bottles. We Love him so much.
Lauren & Enrique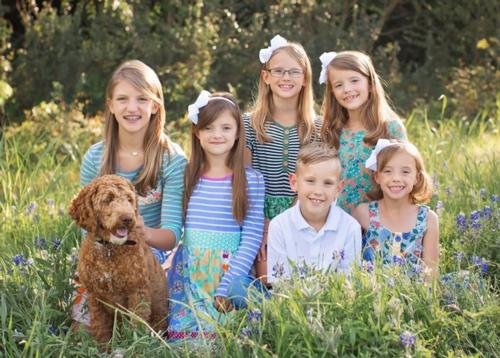 Casey
Gryffin
We Love our precious puppy! He turns one today!
Many Thanks!
Casey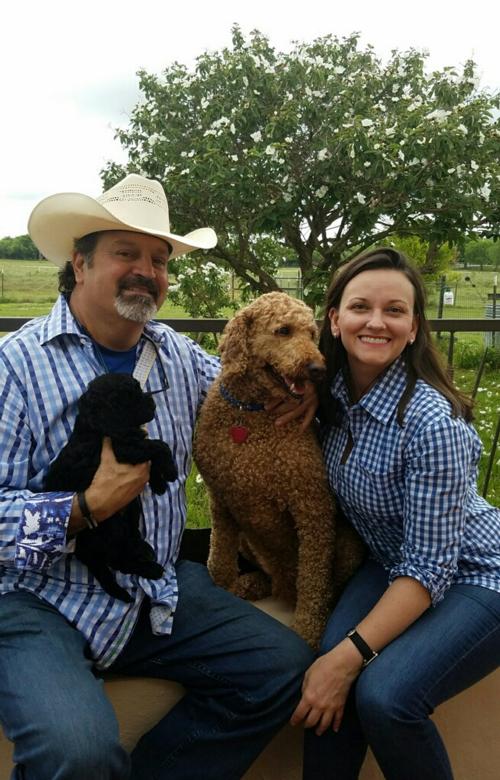 Elizabeth L - Houston
Valentina
6 years ago we brought home the greatest treasure in our lives and last Easter Sunday we decided to add another . We could not be more pleased with these furry blessings. Olivia was incredibly responsive and engaging at making our puppy dreams come true! If you want a beautiful, loyal and hypoallergenic easy dog - this is the breeder to go to every time.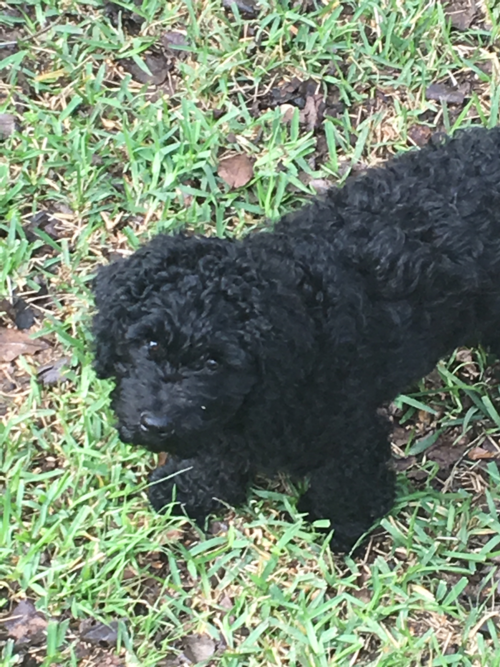 Terri Rooney
Kramer
I wanted to update you on Kramer. I couldn't have asked for a better puppy! He is doing great and is so smart! I moved into a home with a fenced backyard and he loves it. We walk once or twice a day and there's lots of fetch played in the yard.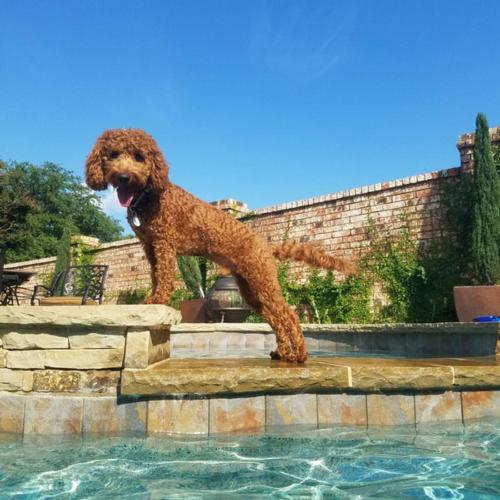 Monty
Beau
Beau's about 17-19 lbs now and he's a nut! Since I'm retired he's my constant companion and just like you said he never leaves my side except occasionally to go show some love to the rest of the family. The only word for Beau is GREAT! We've already taken him on a road trip and was perfect. He's great with people and other dogs. Such a wonderful demeanor. Even our vet looks forward to Beau's visits. She's so impressed with him she said she would probably be calling you to get a puppy as well. Hope all is well. I'll send pics periodically just to let you see his progress. These pics were taken around our pool. He loves outdoors. The area you see in the pics is one of his favorites as he knows occasionally he can flush a rabbit out and then he's off to the races. He's extremely athletic and has no fear of anything! His the perfect family dog and we love him and he shows us everyday how much he loves us.

Update: Well our boy Beau celebrated 1 year on the 17th! He just gets more awesome everyday. As I've mentioned in the past Beau just shows us how much he loves us everyday. It seems as though his whole existence is just to please us. He loves to play and socks are his favorite thing to steal from all of us in order to get us to chase after him; that's his favorite game. This Summer he took to swimming! He swims like a fish! Took a little coaxing at first but once he got in the water he loved it! He loves us and we love him so much. It's still been less than a year that we've had him yet he seems to have been with us for years. So smart...so sweet...so gentle...so loving. I just can't say enough about him. You breed such excellent dogs! Just wanted to give you a quick update on Beau so you can see that he's well taken care of and is the center of our family. Thank you!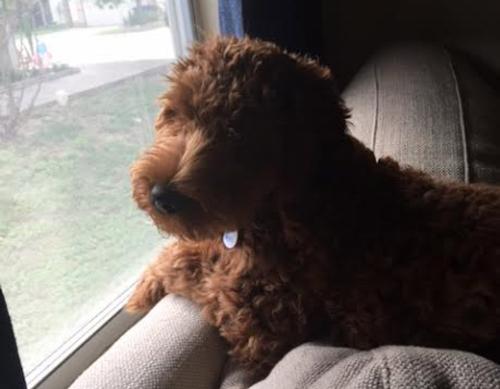 Cassandra
Meatball
In February my boyfriend (Mark) and I picked up our best friend, a little curly meatball pup from Southern Doodlin. She's been such a gift! She's smart and full of energy and LOVES people. I wanted to say thank you and share some pictures of her growing up. She means the world to us!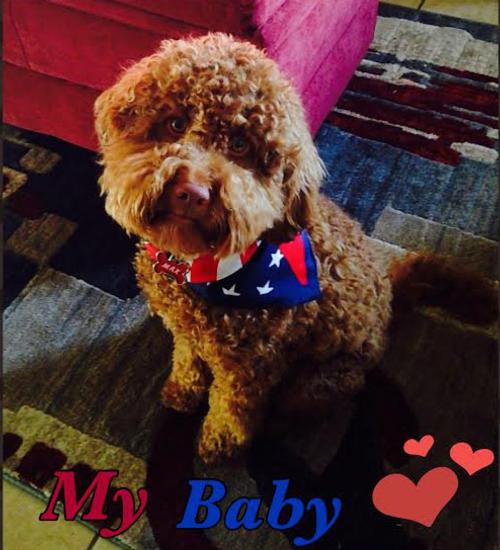 Max's Mom
Max
How beautiful and big Max has turn out to be?! We love him so much and trying to convince my husband to get a second one.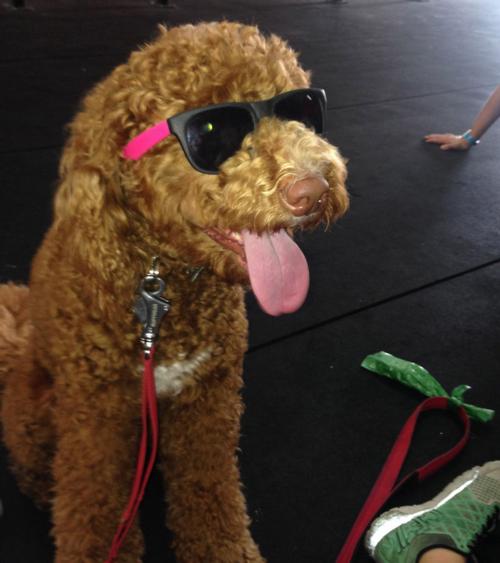 Brooke & Eric
Roux
I can't begin to tell you how much joy she brings us. She loves camping and goes everywhere we go. Roux is an awesome dog! We are so thankful to have found such trusted breeder. We are looking forward to getting another one from you and have referred our friends who are now on the waiting list.
It's almost been a year now and I can't tell you how pleased we are with Roux. He is literally my best friend. From waking up at 5am to go coach CrossFit in the morning to going on walks/runs/hikes/swims, picnics and yes even to the store- Roux is always by my side. He has stolen my heart and the hearts of people I work with as well as some good friends of mine. He was the perfect wedding gift Eric and I could have given each other last year. Roux loves to play, but has no problem relaxing. He is very well behaved and took onto training very fast. He is such a lovable young man, I just had to share how our almost 1 year has been! Hope all is well!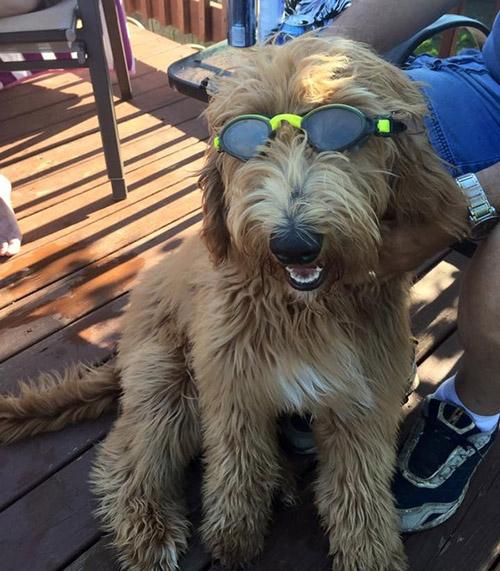 Ashley
Dog
He is the sweetest, most loving, softest, best dog ever!! Loves the water.. The bathtub.. Thinks he is a lap dog, and Follows right at my heals everywhere I go!! Brent tells me he is definitely my dog. He loves him and the kids - but he loves his momma the most.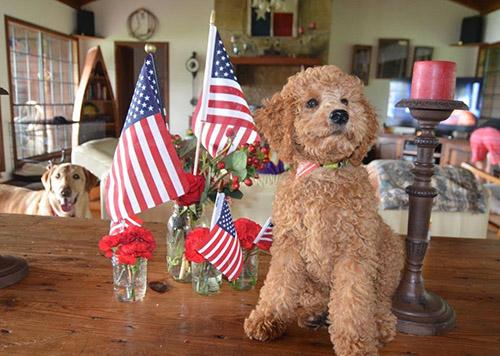 Kat & Rob
Kai
I know you follow Kai on Instagram but I wanted to give you another check-in. So far this puppy has been such an angel. My friends call him a unicorn dog because he is so well behaved. He is almost 5 months and has yet to poop in the house. He has free roam in the house during the day and has yet to chew on anything except his toys; no shoes, walls, or furniture. We were at least expecting to take a few losses, but are pleasantly surprised he has no interest. He never barks, instead he will cry when he wants attention or wants to go out but doesn't sound off at anything. He gets these hyper spurts that some would find annoying but I find adorable! He is just an awesome dog and I can't thank you again and again! He is about 16 pounds now and has completed all his shots!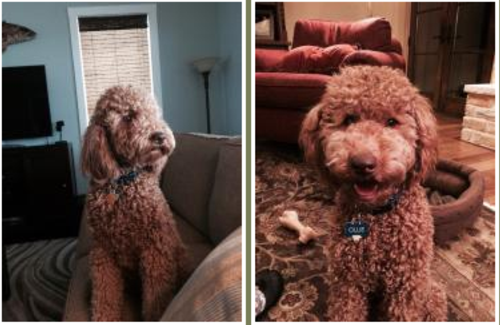 Elsa
Ollie
Ollie is great dog! He is 22lbs now and so lovable. Sits in my lap every time I sit down. He will sit in anyone's lap actually as soon as they sit down. He loves to run and play outside - he is an explorer and he is jumper. He jumps in my lap while I am sitting on the barstool at my kitchen counter. I don't know how high he can jump but at least 5 feet. I take him everywhere with me - he is at work with me now. I get compliments all the time and everyone asks where I got him so I give out the Southern Doodlin name a lot. Have a great day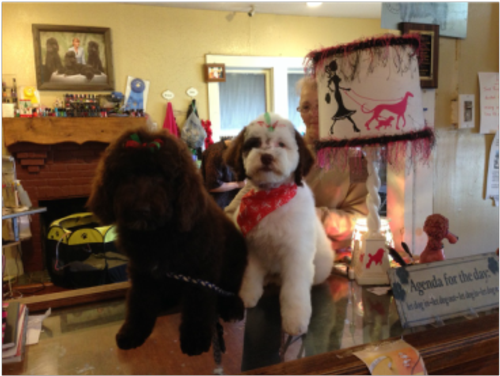 Pam Henry 2 southerndoodlin puppies
The Girls
The girls had the last of their shots yesterday. Plan to have them spayed the first of February. Have a video I will send you. They are so funny. My husband said last night, which is amazing, they are the best dogs I have ever bought. They love everybody! You can put their Christmas picture on your website if you like. They are fantastic puppies.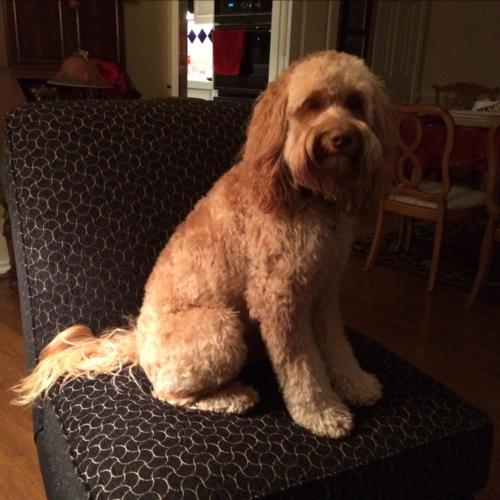 Phyllis Crawley
Dude
update:
It's Phyllis with our wonderful Dude. He is now 3 1/2, ( he weighs 28lbs) the best companion ever and the light of our lifes. I'm considering a companion for him as he loves every dog he has ever met and I think he would loove having a friend in our home.
Wanted you to see our Dude now. I took this tonight - he had a bath and hair cut today. He is such a handsome boy and we love him dearly. He is so smart it's unbelievable. I weighed him this week and he weighs about 25 1/2 lbs. He's a great size. He's so loving and wants to be with us all the time. We went to NM this summer and he went with us. He is a wonderful traveler! I can't say enough good things about him - he's about perfect and we thank you for such a wonderful companion. Oh, also he NEVER meets a dog he doesn't like. We go to the dog park almost every day and he is the hit of the park because he loves all the dogs and gets them running and playing the minute we arrive. The most socialized dog I've ever seen and I credit you for that. Have a blessed Christmas.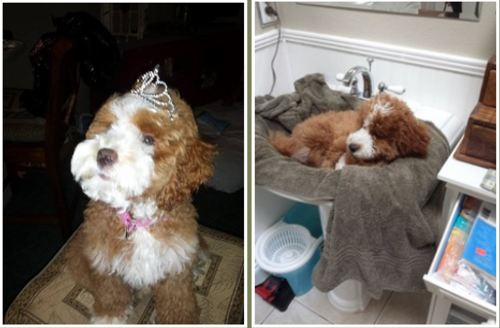 Chris & Sandy Hanson - Daytona Beach, FL
Mia
Everything about this breeder is excellent.They care about their puppies. That was obvious to me from the start. I watched them on Facebook for at least a year before my wife and i picked our puppy. We live in Florida, so everything we did was online. Once i saw Little Mia i was in love. Every question i asked was answered. They are fair in everything they do. They could have charged me a fortune for shipping, they didn't. They could have charged me a fortune for a health certificate, they didn't. They sent her to us and she arrived in perfect shape. We got an incredible, smart, healthy puppy. If this is the puppy we got, i can only imagine what the pick of the litter was like. Olivia and Saron go out of their way to help in every way they can. You can tell the puppies have had a lot of love and socialization.Not only would I recommend this breeder to anyone, but I am sure that in the future i will purchase another puppy from them. THE BEST LABRADOODLE BREEDER IN THE ENTIRE SOUTH. Thank you Southern Doodlin for our amazing dog.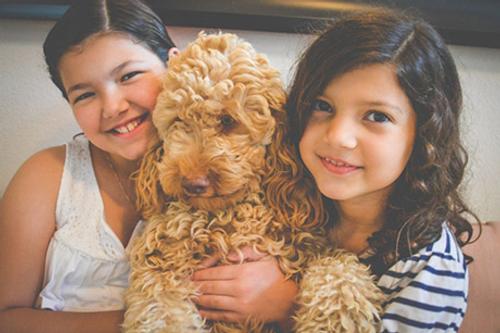 Katy 2 southerndoodlin labradoodles
Ruthie
Ruthie is a retired mommy here at Southern Doodlin! "We love her, she is so sweet, she love the girls, she is so smart, she is part of our family"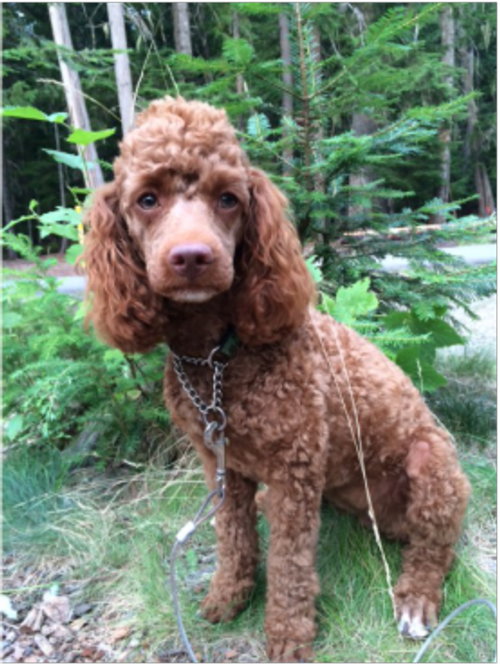 Maple Certified Therapy dog
Maple
Maple is a friendly dog with lots of energy! She loves meeting new dogs at the off leash park and playing chase. She loves to play fetch, camp and swim in the ocean or lake with her family. She is a good protector and watch dog too.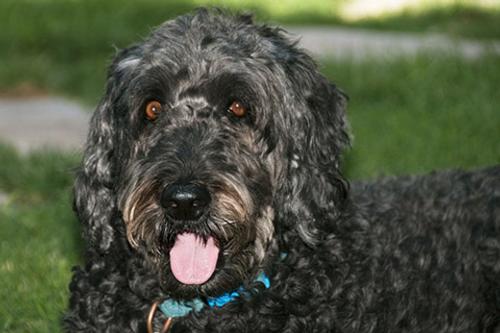 The Hood Family
Shadow
It's been 5 years since we brought Shadow home, and what a wonderful addition to our family he continues to be. Based upon our experience with Shadow we'd like all of your clients to be secure in the knowledge that their puppies will be healthy, happy, and loving members of their families for many years. At 5 years of age and 70 pounds in weight, Shadow is now a mature standard size Labradoodle. He brings our entire family as much joy today as the day we brought him home. I'm enclosing his photo so that your clients can see one of your mature Labradoodles. Thanks and Best Wishes.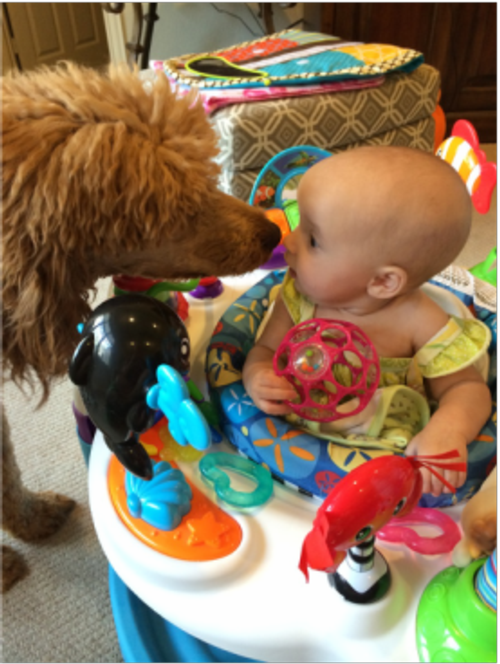 Angie Buckles
Koedah
We are in love! I could go on and on about how beautiful Koedah is. His coat is so so soft and does not shed. Perfect for our family with allergies. Koedah is friendly and is enjoyed by everyone who meets him. Patient and calm when he needs to be but full of spunk when we play with him. He is a big part of our family. Koedah is a perfect family dog. GREAT with my kids. (13 year old, 10 year old with Autism, and a 6 month old) Libby is the best! The process of finding the right fit for our home was easy with her help. She knew what we needed and was able to guide us through the process. We bought Koedah on her recommendation that he was just the puppy we needed. We are going to be shopping for another one from her soon. Thank you Libby!!! We love him!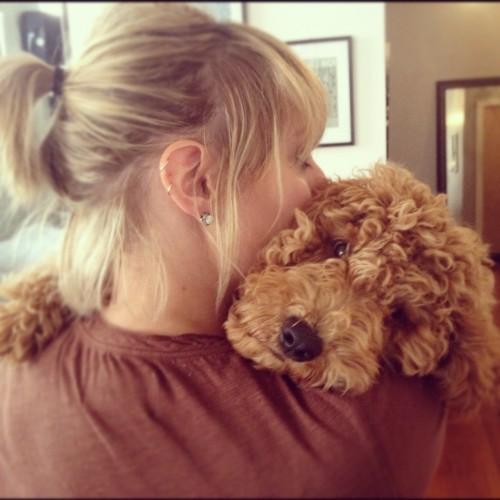 Maeghan & Luke
Ned
As promised, here is an update on Ned! He'll be 7 months old next week (and 28lbs), and the absolute love of our lives. He adjusted very quickly to city life in Boston, made easier by the fact that we cannot walk down a street without being stopped by strangers asking to pet and take photos with him. He's a city-wide celebrity! He gets multiple comments EACH WALK about how he looks fake/like a stuffed teddy bear (the other day he was even called Orphan Annie...that's my favorite yet!) And he LOVES the attention. He's been excellent with children and babies since day 1, and loves spending time at the dog park. In all honestly, we never could have anticipated loving a dog as much as we love Ned. He's sweet, cuddly, smart, funny, playful...just everything you could ever want and more. We're already excited to be adding a brother of his to the family when the new puppies come.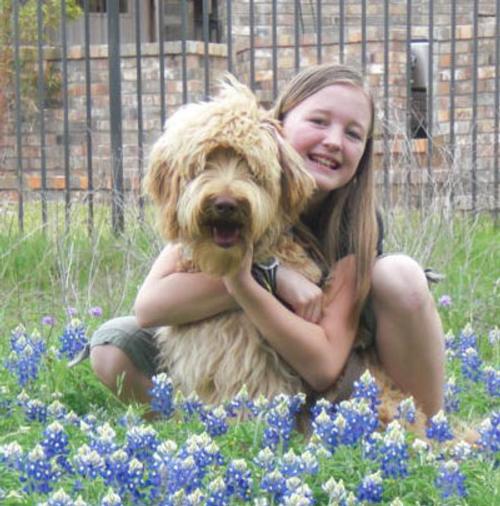 Katharina, Meggy, & Uli Seemann
Ringo
Ringo turned 1 a few days ago on July 2nd. He is behaving very well. We read the testimonials on your website and found one about Ringo's sister, Lili. It was like Lili's owner was talking about Ringo, because he is behaving just the same way. Ringo has fun at training and he is getting better and better. When we are on vacation Ringo stays at his best friend Spot's house. They have a lot of fun together. I tagged on a picture of the two of them together. Ringo got his first haircut at the end of May. At first we thought he looked so silly, but now we have gotten really used to it, and it is already starting to grow. I bet he is glad that he has shorter fur since it is extremely hot this summer.I included a few photos of Ringo. We are Labradoodlelovers.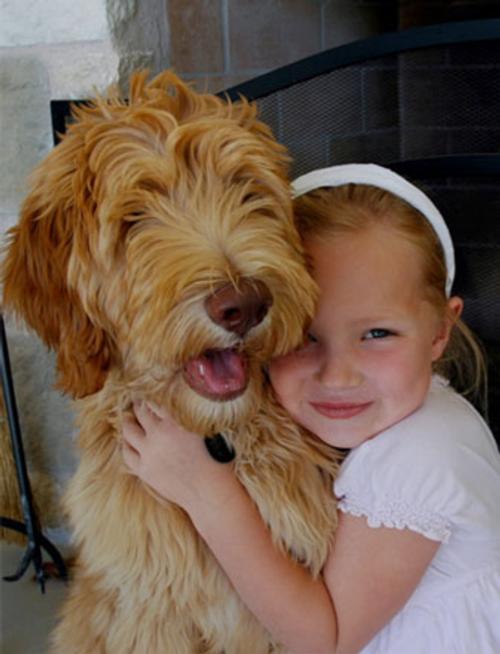 Jody Davis
Norman
Norman AKA John Boy from Boonie and Boomer's litter is now 75 pounds of joy and love in our family. He has the cutest personality one could imagine and was easy from day one. He adores all three of our kids and is loved also by our 13 year old West Highland White Terrier. They can be quite the dynamic duo. Norman has added some spunk into our Westie's life.We noticed on your website that you might have an upcoming litter from the same lineage. We would be interested in another male puppy. Please keep us in mind. Norman truly is the perfect family dog. Blessings!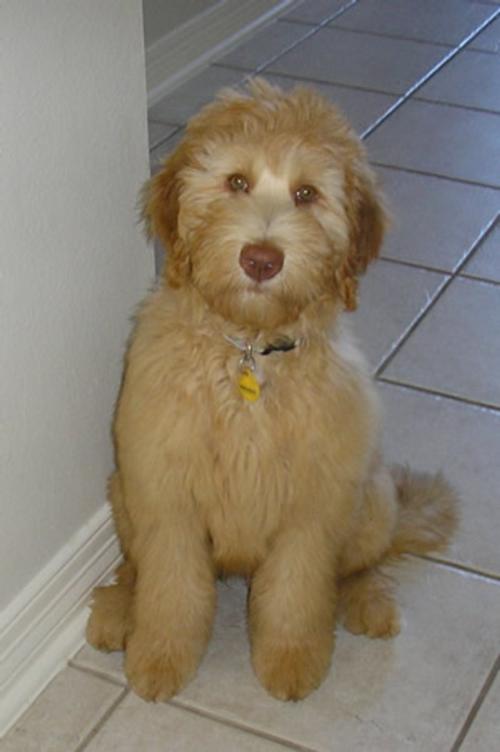 Pavani
Maggie
I just wanted to give you an update on Maggie, aka Tethra. She is six and a half months now and we got her spayed recently. She has recovered and is back to normal. Just wanted to share some pictures with you. She is so adorable! She gets so much attention from everyone! She is a big hit at my son's school. She came with us on our Christmas vacation to new Mexico and Arizona. She just loved the snow! Thanks once again. Take care.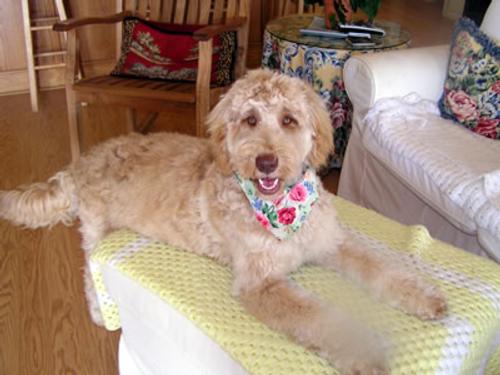 Marcel & Linda Elissalde
Lili M. Elissalde
Lili turns 1 year on July 2, 2010. Lili has been, is, and will be beautiful. Lili, with her harness, is a pleasure to walk. She can sit and shake hands. Lili knew that when we picked her up as Miss Olivia had taught her. She can now go to place, do down, stay and several other necessary acts. Lili has lived with us for 10 months. We can't believe how fast the time has passed. We love her more all the time. Everyone of our friends has been very support and helpful with Lili. She truly feels that she is a part of this community. She and her best bud Dundee will continue to meet, play and swim at the shore.
Everywhere we go, people stop and ask about her because she is absolutely gorgeous. Lili is a good car dog. I take her on trips about the peninsula. We are trying to teach her to jump in as she is getting harder to pick up. Sometimes we feel a bit guilty that there are no youngsters around to run and play, but we wouldn't give her up for anything. Have all good things!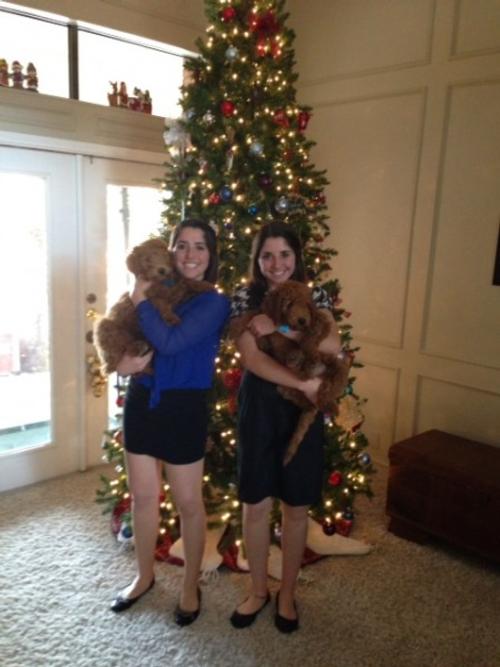 Karen
Sella & Sami
The puppies are doing great. Pink, now Stella is on the left, Purple, now Sami is on the right.
Only one inside accident so far. I can't believe they were already housebroken. We are loving them. They are now family. Merry Christmas. Hope you have great holidays.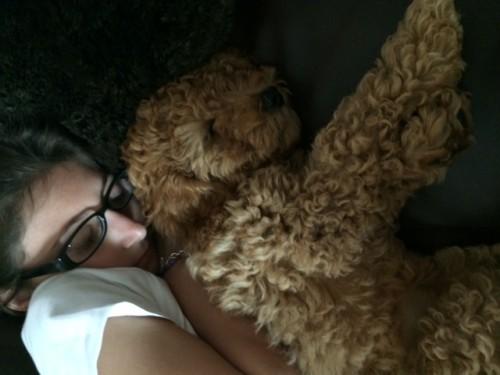 Irene
Emmy
Emmy is amazing. She's the smartest pup ever. She's already potty trained She rolls over, gives paw, sits, lays down and Stays!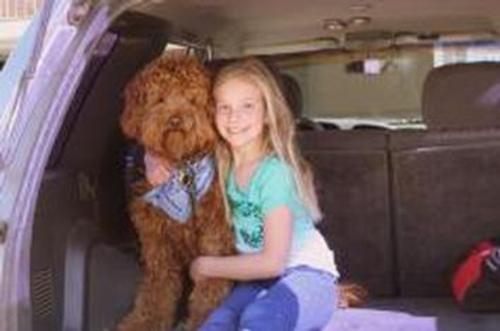 Ed & Erin Martin - Cibolo, TX
Dizzy
I thought I'd send you an updated on "Dizzy". He was one of Roux & Lucy's litter born August 2012. He has been such a joy! He was potty trained to ring a jingle bell on the back door within 4 days...he's got such a sweet personality & is great with the kids. We took him to Greune last weekend to their Christmas market, we had SO many people stop us & ask about him. I could've given out 30 of your business cards if I'd had them. Needless to say, we're thrilled with Dizzy & wanted to thank you again for a great doggy buying experience. We'll keep the pictures coming as he gets older, too. Take care,He's such a wonderful guy...perfect temperment, sweet & calm, and he gets so much attention when we take him out in public. Just wanted to write & let you know that he's doing great! Thanks!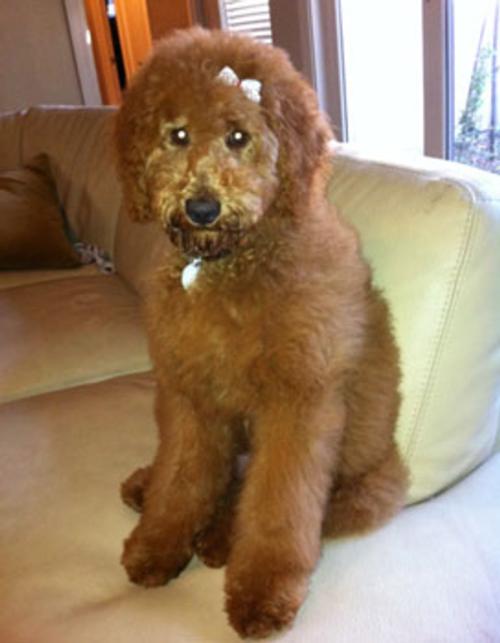 Tracie Jones
Lillyroux
Just wanted you to see Lillyroux after her day at the salon. She's an absolute joy to everyone that meets her. She loves to wake up my oldest son for school. When she gets tired she wants to lay down by my 4 y/o. She rings a bell hung on the door knob to be let out. Absolutely loves the shower and will jump in at any opportunity! My husband puppysat for me over the weekend last month...never leave a man to do a woman's job:). She had an accident but went to the shower and got as close to the drain as she could!!
Oh and if it rains...she throws a fit until you let her out. She stayed outside all day the last rainy day we had. It was cold and pouring and I couldn't have dragged her in. She ran and jump in every puddle she could find:) Lots of people ask about her and where I got her...hopefully I'm sending you some business. Thank You and have a great day.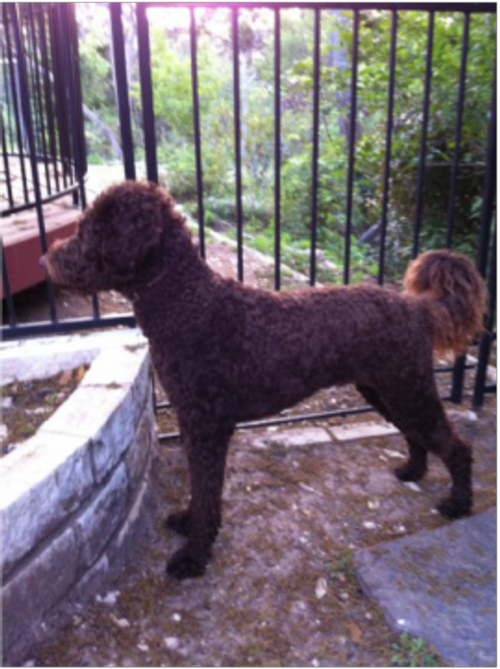 Janice
Louis
Louis is such a beautiful dog. Plus he's sweet and good. Everyone loves him. Thank you!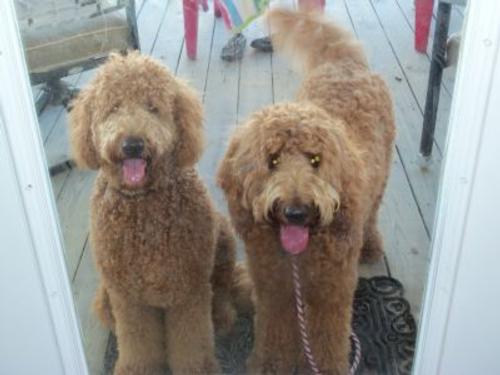 Al & Betty
Jethro & Ziva
These siblings loved the beach and actually loved the sand and salty water. Jethro would follow you into the deeper water. Ziva is the one with a leash. Jethro and Ziva are very similar but with different personalities. Both very intelligent and people oriented. Jethro is "laid back", loves to chase and retrieve objects, watches birds and planes. He is protective in that he notices things/animals/people that are not in their normal place and will alert you with a Grrr…or bark. Once they are identified or he is introduced he will quiet down. Very friendly with kids, will sit and let them pet him. Loves water, but won't jump into a pool yet. Likes to lay his head on your lap or beside you to have his ears scratched. Occasionally, he won't leave his crate unless you give him a tummy rub. Does very well at pet boarding giving no trouble and getting along with other dogs of all sizes.

Ziva has a great outgoing personality, gets a little too gregarious with new people, loves kids, still a lap dog, will get on a sofa if invited. Chases squirrels. Loves water also, but is wary of deep water. Seems to prefer the outdoors more than Jethro. Jethro likes the A/C. Jethro and Ziva romp and rough house like any kids but Ziva is almost too active for Jethro and will wear him out. We will not send a picture of them in a muddy yard. They both are easily taught new things, sometimes it becomes a little scary how well they understand. All-in-all Jethro and Ziva are great labradoodles. We are constantly approached and asked about them, their breed, age, where we got them, etc.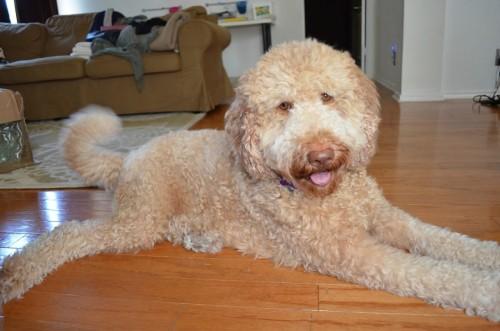 The Cardenas Family
Scarlette
We wanted to write and update you about Scarlette. She is the best thing that's happened to us! Scarlette plays great with the kids, runs great with my husband and keeps me company in the kitchen. She is everything we could have asked for. Her favorite things to do are play fetch with tennis balls and go hiking, when we go hiking she stands right next to our daughter who's 4 and helps her get down the rocks. We don't have any other dogs but she's met other dogs at the park and is always really friendly, no mean bones in her body. We always get compliments on how gorgeous and well behaved she is and I always mention you. You really did a great job training her before she even came to our home. Thank you so much for everything, we LOVE her!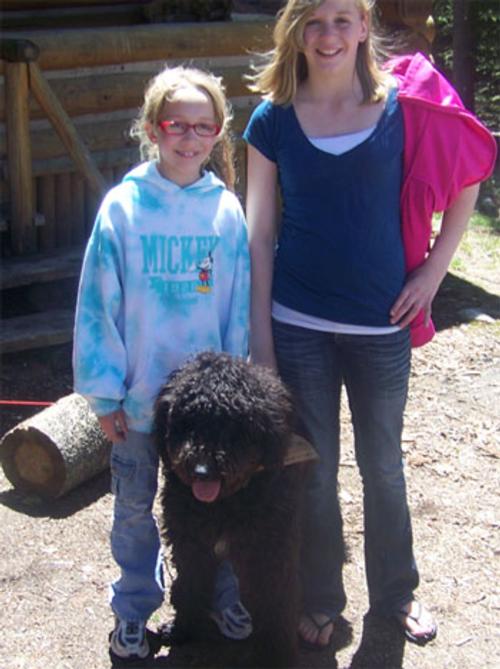 The Yost Family
Rockie
Our last year with Rockie has been wonderful!!! Rockie is happy, fun and wonderful with our kids. He likes hunting, swiming and barbies! We have went through a lot of barbies this year. I wanted to thank you for him and know we love him a lot. Thanks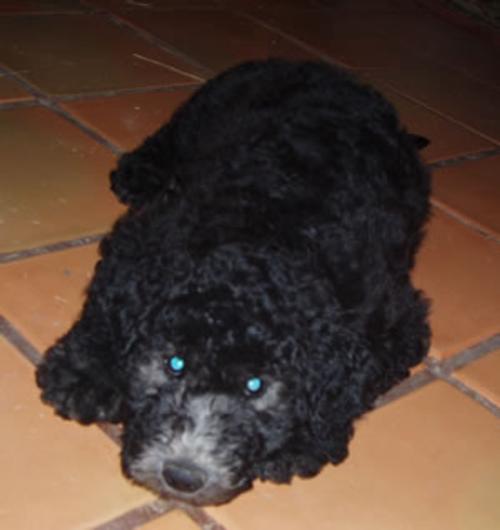 Dick & Judy
Tucker
We are just back from a trip to Austin. Tucker didn't go as he was at the vet having his "clip and snip" operation. He is a fabulous dog! I have taken him to three obedience classes now and I get the same comments from different people each week telling me how adorable he is, how calm and obedient he is, how smart he is, etc.and, of course, they are all absolutely right, but on top of that he is an absolute love! He is really growing and may outgrow his parents. At 5 months he is 48 pounds and quite tall. When I bathed him last week, I was surprised at how slight his body is because his fluffy fur makes him look so much fatter :) He is very affectionate and attached to us already. He loves to play outside by having us throw his squeaky hedgehog so that he can chase it and bring it right back to us for more. He has only ventured onto the top step of the pool, and got quite upset if we swam out in the middle away from him so I'm hoping he will get more daring as time goes by. However, he loves to sit in the water on the top step and plunge his whole head under, blow huge bubbles and then come up for air before doing it again. His funniest pastime is to grab hold of his own tail with his mouth and then try to run away with it, sort of crab walking across the room until he trips himself up and goes sprawling. We look at each other every day and ask how we could have been so lucky to get such a wonderful puppy. Thank you so much!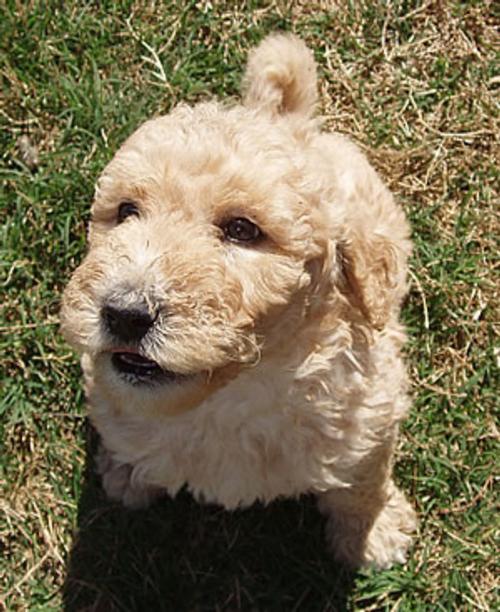 Carol & Bill Bornstein
K.C.
I just want to let you know that we are really enjoying K.C. We have been to 2 puppy kindergarten classes so far & she is doing very well. This past weekend our son & daughter-in-law visited us from Houston plus a friend brought over her 2 granddaughters to meet her & a neighbor brought her grandson--she was adored by all! She is very friendly to people & other dogs. We hardly noticed house-training her! Thank you for allowing us to bring her into our family.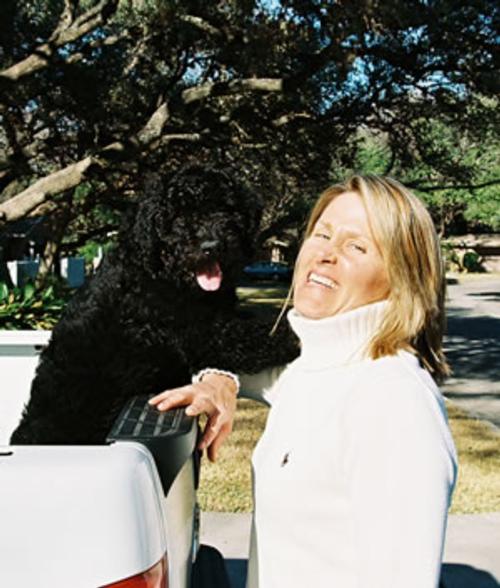 Heather & David 2 southerndoodlin labradoodles
Nacho
We acquired Nacho in January 2008 when he was eight weeks old. He is an amazing dog; smart, sweet, athletic, good looking and has a great personality. Everyone loves him and he even has his own fan club. He was potty-trained in one week and never destroyed furniture or other items in the house. We could not imagine having a better dog--and are already thinking about getting another one. Libby made it very easy for us to "purchase" Nacho. She is a concerned and loving breeder and our dog received a great report from the vet when we first took him there at eight weeks. It is a total joy to watch Nacho continue to grow and develop into an even better dog every day. Thanks again, Libby. Hope to see you soon.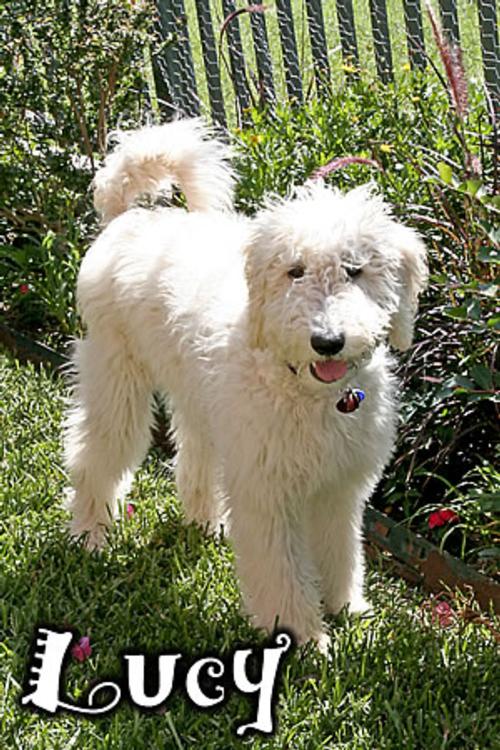 David
Lucy
Here is a photo of Lucy taken at in late April . She was 5 ½ months old and weighed 40 lbs. Today she weighs over 46 lbs and stands at least 2 inches higher at the shoulder than our 8 ½ yr old Golden Retriever. I have many more images of Lucy but this is my favorite. Lucy is staying with the trainer who very fond of her. When we return I plan to get her groomed and trimmed. I'll get you some more current images either before or after she gets a modest haircut. Later in June, we might drop by for a visit.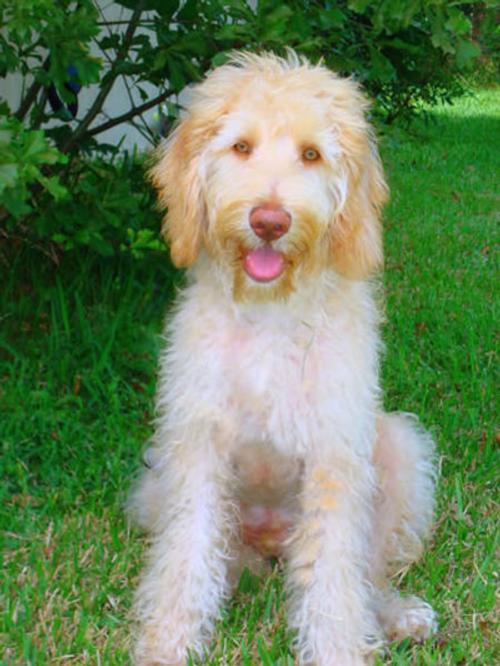 Juliette - Port Arthur, TX
Kingston Cole
Here is a recent photo of Kingston Cole from a birthday party...he is getting BIG....he will be five months old this week....he just lost his first tooth!!!! He loves going to doggie day care during the week...he has soooo much fun playing with other dogs! He loves to chase bubbles...and squirrels!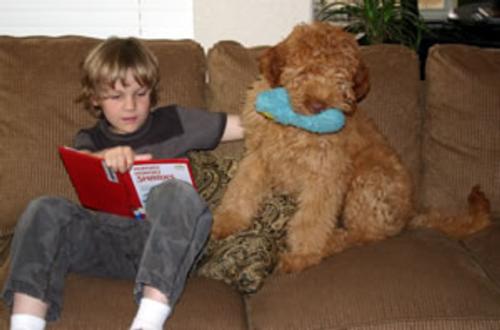 Shannon
Major
Hi, Major is doing wonderful. He is the sweetest thing ever!! We are so happy to have him. He is growing so fast and we are having a blast with him. I attached a pic of him a couple days ago when my son was trying to read and he wanted to play. Thank You!!